Software for leading edge mask-makers
Fabrication of Photomasks
We offer high quality, low cost imaging services as part of our exclusive agreement with our manufacturing partner, LMTec. This allows us to offer the most cost effective solution to meet your photomask needs. Our customers are surprised by the high value we offer with the most competitive pricing in the industry. The reasons are simple: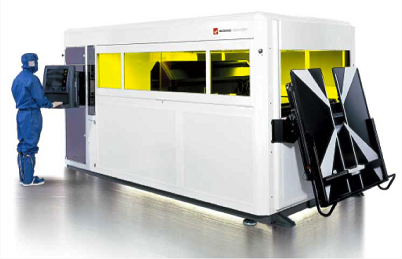 We have a modern high throughput equipment set that provides high yields and quick cycle time. This addresses the two major components of cost (Time and Yield).
We have low operational cost compared to large photomask suppliers that have high administration/operational overhead with huge R&D budgets.
LMTec is a modern mask supplier based in Korea where they fabricate and service high tech companies throughout the world. Their new manufacturing site is both ISO 9001 and ISO 14001 certified. From this facility they supply masks to prominent foundries and manufacturing companies such as UMC, TSMC, Amkor, Samsung, LG, and others.
LMTec's advanced Micronic Laser pattern generators (FPS5100 and MP80+C) have the advantage of offering image resolution down to 1 µm with unmatched throughput. This is a significant competitive advantage over smaller suppliers that do not have these resources. This is why our pricing is so competitive. We also have a compliment of process, inspection, repair, metrology, and pellicle application tools to support any manufacturing requirement. We have everything needed to meet your specifications.
Ordering can be facilitated by our on-line order entry system, 'CleanJob'. If you are confident in your mask data and your requirements meet our standard specifications, you can submit your order using our standard price matrix. Your order will be processed the next business day and sent to you directly. While you are still waiting for a quote from other suppliers you will have your order started using 'CleanJob'. Typical cycle time from release of your order to arrival of the mask at your location is 4-5 days.
If you have mask requirements that are outside of our published matrix or if you require additional services such as data verification, there is no problem. We can develop a custom quotation to meet your specific needs. You will be pleased with our price, service, and quality.
CleanJob Order
Choose what kind of mask you want and proceed to payment. We accept all major credit cards and PayPal. Please send your file to dj@abeamtech.com. CleanJob orders are printed exactly the way they appear in the file.
Support
If you have questions or need support with data preparation before releasing the job to write, contact Daniel at (801) 520-9380 or send e-mail to dj@abeamtech.com.